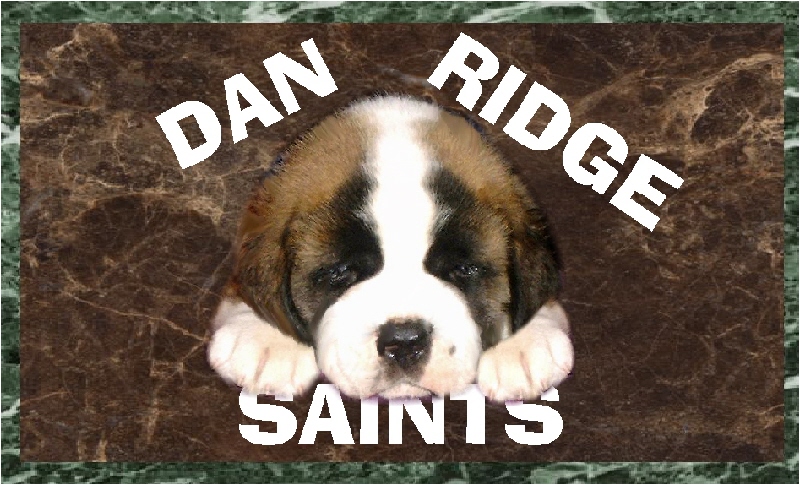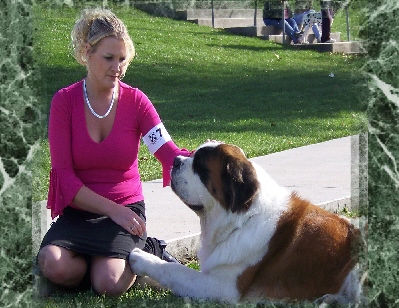 PAUL & SHAWNA AKERS
606-356-1115
West Liberty, KY 41472
Established 2005 ©
Members: Smokey Mt St Bernard Club

<![if !vml]><![endif]>


INT/NAT CH Slaton's Taking Whatz Mine V Dan Ridge
"Bekka"
*This name was given because in Genesis 25:23-34, Rebekah helped her son, Jacob, trick the birthright from his father, Isaac, and his twin brother, Esau.

INT/NAT CH Bekka finished her International and National Championship on July 13, 2008. Amoung her winnings thus far, one Working Group 1, two Working Group 2, one Working Group 3 and 5 Best of Breeds.

Bekka has done very well in the International Shows. She is also pointed toward her AKC Championship. We plan to finish her AKC Championship this year.

CLICK HERE TO WATCH:
A VIDEO OF BEKKA'S ROAD TO HER CHAMPIONSHIP.

Bekka was bred by Shirley & Joe Wolf,

They are outstanding breeders of over 100 champions -
many with obedience titles since 1973.

This female is the great grandpup from the American/ Canadian Champion Trusts Gentle Ben V Slaton who is the Top Winning St. Bernard in the History of the Breed. Gentle Ben was produced by Denise Greenaway with Trusts Kennels in Canada. Gentle Ben's sire: AM/CAN CH Slaton's Lite-Weight He Aint HOF and his dam: CAN CH Sanctus Black Diamond AM/CAN TD CAN CD. Gentle Ben was shown by Joe Wolf and groomed by Shirley Wolf.